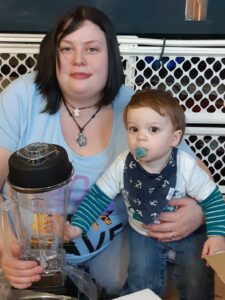 …and it is Amy, the Victoria-based mother of a darling 13 month old baby boy!
We asked families who use our resources to please let us know if a KidCareCanada resource has been particularly helpful to them. We heard from parents and grandparents who spoke generally and specifically about KidCareCanada resources they value. We thank every parent and support person who requested feedback from families.
Amy found the Dr. Gabor Maté video, "Love is Not Enough" https://kidcarecanada.org/videos/love-not-enough/ particularly interesting.
Said Amy, "The love is not enough video states they can interview prospective parents and predict how a child not yet born will respond to attachment issues at age one.. that's pretty amazing."
Other parents cited the baby massage videos – several mentions – videos that guide parents through pregnancy and the early days afterwards, videos that support fathers, the resources that speak of love. Comments from the ABCs book include the value of inclusivity through the images and comments, the guidance about sleep, building trusting relationships and looking into baby's eyes rather than into their mobile phones.
We are delighted that Amy is the winner of our KidCareCanada story contest. Thank you Amy for making the time to let us know how our resources have been valuable for you and your family!
We extend very sincere thanks to our long-time supporter, Mr. Louis Chang, President Paragon Food Equipment, who donated the magnificent "Reliant" Professional Blender. Amy and family will soon be moving to Nova Scotia and we are delighted that she will have with her this souvenir of Victoria. We wish her every happiness in her new province — and many wonderful meals for the whole family made in this super-duper blender.
You can read testimonials about KidCareCanada at https://kidcarecanada.org/testimonials/