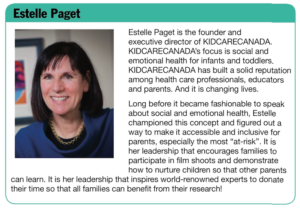 On May 3, at Government House in Victoria BC, the Lieutenant Governor of BC, Her Honour Janet Austin, along with the President of Leadership Victoria Society, Sarah Hood, the Executive Director of Community and Government Relations, University of Victoria, Alison Noble, and CEO of the Victoria Foundation, Sandra Richardson, will recognize 22 people who have made a positive impact in our community through their leadership.
Included on this list of "Inspiring Stories, Inspiring People", is our very own KIDCARECANADA founder/Executive Director, Estelle Paget. She, and the other award recipients, represent the varying ways that people from all walks of life can create positive change through a values-based, collaborative approach.
We congratulate Estelle, and everyone else involved in the success of community leadership initiatives.
---
Note: Here's the link an article from Victoria News with more information (and this is the source of our photo as well!)
Please scroll to page 13 for the full story.
https://www.vicnews.com/e-editions/?iid=i20180420040807732&&headline=VmljdG9yaWEgTmV3cy9JbiBNb3Rpb24sIEFwcmlsIDIwLCAyMDE4&&doc_id=180420110833-bac4c25e540642bcaf4d8f6a2bd41b6e