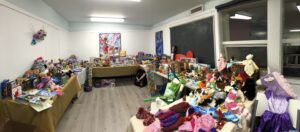 In a world that sometimes seems so tragically divided, it is wonderful to see a community join together.

This year, families on the Saanich Peninsula with help from organizations such as Art For Everyone Foundation, Buddies Toys, Pacifica Real estate, Rarity Fashion, RNS Dance and no doubt others we have missed, collected toys for families for Christmas. This took place under the leadership of the McTavish Academy of Art. Families donated a wonderful selection of stuffies, games, craft projects, home-made mittens and toques, building blocks, dolls, and even costumes!
We are not sure how we got on the "nice" list but KidCareCanada was asked to help with the distribution. We are delighted to have been given the opportunity to pass the toys on to others and are happy to report that every single toy has now successfully been delivered to excited and appreciative recipients.
Because of the kindness and leadership of the McTavish Academy and their family members, and the extraordinary generosity of families on the Saanich Peninsula, Christmas will be easier and happier for hundreds of families who are struggling financially.
Helpers with the distribution included Mary, at Tsartlip Nation, Dale and Talia who picked up toys for Tabita at Tsawout First Nation where they were already making hampers for families, and Louise and John who delivered toys to the Cridge Centre for the Family. Toys have also gone to families in Saanich who are new to Canada. Everyone expresses their thanks to the generous donors.
From Sean at McTavish Academy of Art:
"Peninsula families, parents and students of all ages really came together to make this possible. It was special to see families coming in with their little ones donating some of their favourite toys to share with others. We live in an amazing community, full of the giving spirit."
We at KidCareCanada agree and feel especially good to have been "chosen" to participate!