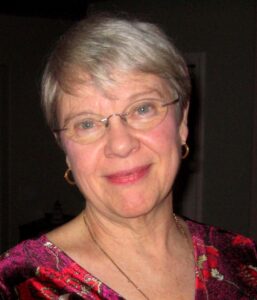 We wish to honour the memory of Ann Reiner, who died suddenly on December 11, 2019. We are so very sad that this remarkable human being has died. She was loved, valued and vital. KidCareCanada was fortunate to have Ann's support. Our connection to Infant Development Programs (IDP) began because of Ann and her long-time friend, Dana Brynelsen.
Ann was a loving and much-loved wife, a dedicated and admired mother, grandmother and sister. She was cherished and respected by her friends and colleagues.
Ann had a long and distinguished professional life as a pediatric physiotherapist, educator and researcher. In these roles she helped thousands of families. She began her clinical work in BC in 1965 and held senior positions at Sunny Hill, the Diagnostic Centre, and BC Children's Hospital. In addition to research studies investigating seizure disorders and visual impairment, Ann was a pioneer in developing therapy services for infants and children with an intellectual disability. Ann was also a strong supporter of the BC Infant Development Program (IDP), serving as Chair of the Provincial Steering Committee for many years.
More recently, Ann continued to find ways to enrich the early childhoods of children including through a nature preschool she helped to establish in Richmond where she was also a member of a photo club and an outdoor club, when she wasn't travelling.
In short, Ann Reiner modeled the very best in social and emotional development.
She will be dearly missed by many.