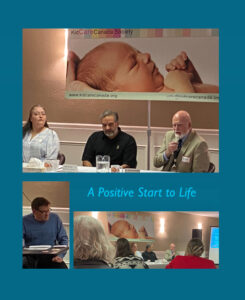 Yesterday's event in Victoria – "A Positive Start to Life" – sponsored by Leadership Victoria, was a wonderful success!
Panelists Suzanne Jackson (Child Care Planner, BC Association of Aboriginal Friendship Centres), Dr. Andrew Macnab, MD (Pediatrician and Director, KidCareCanada Board), David Lau (Executive Director, Victoria Immigrant and Refugee Centre Society) discussed the importance of the first years of life, moderated by Cliff Lequesne, from the Q! Morning Show. As Cliff paraphrased, "Every new parent and everyone in society NEEDS to know about the importance of 0 to 3! And about these resources! For the sake of society we must be proactive, not reactive." Tongue in cheek he added, "I wish every new parent could be "forced" to watch these videos before they became parents!" We are thrilled that Leadership Victoria chose KidCareCanada to be their "community partner" and that they created this opportunity to share how KidCareCanada and other community organizations are empowering families and improving society.
Here's a link to a short clip featuring Dr. Andrew Macnab: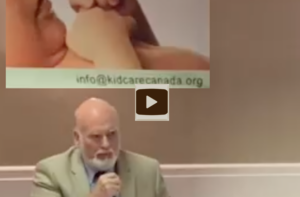 Over and over we heard the message, "Every baby needs to be valued and every parent needs to be supported and we will have a healthier, safer and kinder society." The BC Association of Aboriginal Friendship Centres and the Victoria Immigrant and Refugee Centre Society are actively changing the lifelong outcomes for the families they support. We also need to keep in mind the very real cost of poverty. As one participant reminded us, "Until vulnerable new parents have homes where they feel safe, and enough food to eat, they cannot focus on parenting skills."
Through his provocative and thoughtful comments, Cliff Lequesne highlighted the wisdom of the panelists. At one point he said, "Schools get blamed, but issues are created long before." The Leadership Victoria organizers did a terrific job, thinking of every detail and carrying off the event – from the excellent panelists, participants, lovely refreshments to the door prizes and evaluations. We are happy to know that KidCareCanada Learning Guides provided support in their planning.