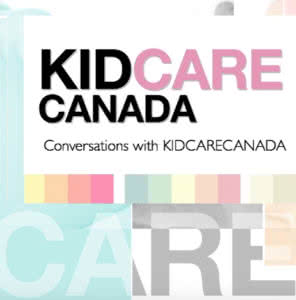 ---
The new series of "Conversations with KIDCARECANADA will begin airing on Shaw TV South Vancouver Island (Channel 4 – https://www.shaw.ca/ShawTV/Victoria/) as follows, starting on July 9th.

Mondays – 9am, 7pm
Tuesdays – 11am
Wednesdays – 8:30am, 5:30pm
Thursdays – 6:30am
Fridays – 7:30am, 6pm
Saturdays – 8am, 5:30pm
Sundays – 10:30am, 5pm

Please note, this may alter week by week if there are LIVE or special events that bump an airing or two.
For the series, we worked with some wonderful guests, including, for the first episode titled "The Gift of Gab," Registered Speech and Language Pathologist, Caitlin Bittman.
Future episodes will include Dr. Andrew Macnab, pediatrician; Diana Elliott, Provincial Advisor for Aboriginal Infant Development Programs; Kristin Yarker, dietitian; Dr. Joanna Cheek, psychiatrist; and Dr. Tisha Gangopadhyay, Registered Psychologist. All interviews are conducted by the KIDCARECANADA Founder, Estelle Paget.
We thank filmmaker Alisa Kerr (Hi-Def Productions) and Shaw Producer Ryan Spedding (@rspedding) for their dynamic collaboration. Big thanks also to other Shaw TV South Island folks, including Kim Robinson & John Mackenzie (Producers) and Interns Geoffrey Hendrie & Sebastian Sutter-Schimeck (Camera operators.)
If you missed our first season, or want to revisit it, you can watch here: https://kidcarecanada.org/video-section/shaw-tv-conversations