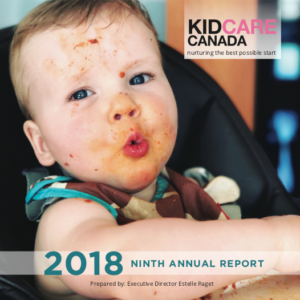 Are you curious to know more about what we do to help parents and caregivers feel empowered?
We are happy to announce that our 9th Annual Report (2018) has been published and is also available in PDF format for you to review online. (https://kidcarecanada.org/annual-reports/)

Two barriers have prevented many parents from accessing information about early nurture:
• Research on infant brain development and social and emotional development is typically published in Academic Journals where it is hard to locate and often difficult to understand.
• Professionals who work with parents lacked a visual tool to illustrate nurturing behaviours.
KidCareCanada resources overcome both barriers: most are freely available online and all use language and images parents and professionals find understandable – and appealing.
We would not be able to maintain and develop this effectiveness without the very generous and much appreciated support of those who contribute to our programmes. We express this gratitude not only on behalf of KidCareCanada, but for the future generations whose well-being you are helping to secure.